Construction
NDC Communications is unique among communications contractors. Having a fully developed and equipped civil construction division we employ our own operators, masons, carpenters, finishers, septic installers, electricians and engineers who are experienced in their respective fields. When NDC says it is "full-service" and equipped to meet any and all types of construction needs we are not over-stating our abilities. NDC delivers professionally finished site work, septic systems, commercial buildings, residential homes, garages, concrete work, roads and bridges, etc., that are a matter of pride for us with attention to detail and beautiful finishes. Despite being capable of large construction projects NDC typically contracts the small to medium sized projects that we can complete efficiently in weeks as we attempt to maintain the construction division's availability to our communication projects. The priority of our core competency in the communications construction industry allows us to be a great choice to sub-contract for GCs as we are fully capable but non-competing in traditional, commercial, construction markets.
Site Work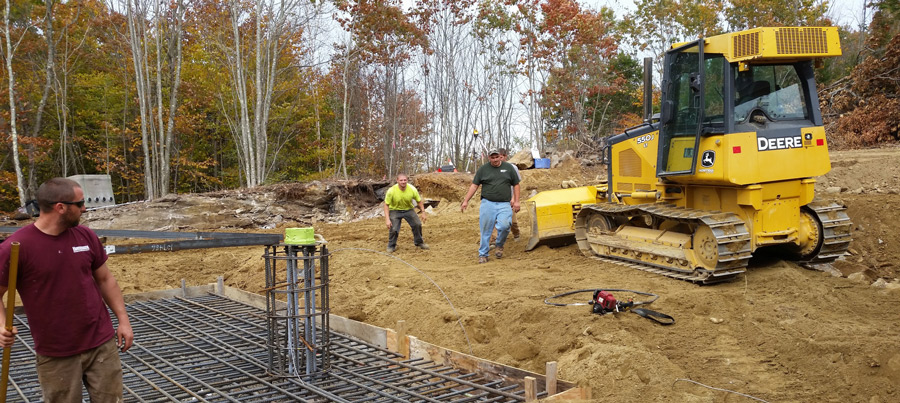 When an entire career is spent in excavators, bulldozers, loaders and skid-steers doing nothing more than preparing sites for various building applications heavy equipment operators tend to get very good at performing precision work. NDC Communications has purposely recruited individuals who can –as they say- stack dimes with an excavator bucket or level a pad with a bulldozer that requires no finish-raking. Every good building project begins with a great foundation. Proper elevations, drainage and compaction are essential to the success of construction projects of all sizes. Our attention to detail and quality, our understanding of the fundamentals of foundation building, and our repeated execution of beautiful sites demonstrates why our many clients have confidence and trust us with their earthwork projects. NDC will perform your site work exactly to plan, identify and resolve any challenges specific to your site and complete the project with a clean, professional appearance.
Commercial Building
NDC Communications is equipped and staffed to build your exciting, new business facility or expand your existing facility. Whether stick-built or steel your business is generally recognized and identified by your primary facility. It is your first and most impressive marketing image and NDC believes the construction process should be as impressive as the finished product. If it is a renovation or addition to your existing facility we strategize in a preplanning meeting with you to implement the least intrusive and most efficient approach that allows for "business as usual" at your location. NDC's clients include Welcome Centers, Restaurants, Universities, Brew Pubs/Distilleries and other businesses with a significant amount of foot traffic demanding we strategize and implement Construction Safety Plans that allow your business, as much as it depends on us, to continue to perform its services and earn its needed income while in the construction process. From one business to another, NDC understands the value of fiscal continuity and we are sensitive to your priorities as we minimize disruptions with every reasonable precaution.
Residential Homes
Have you been dreaming of building a particular home that fits your tastes and meets the needs of your household? NDC Communications can build your ranch, cape, colonial, salt-box, farm or modern style home to your design or we can help you design a finished blueprint for the house you have always imagined. NDC can also help with renovations and customizations of the home you already love. Our construction manager has more than 35 years in home-building experience and has produced beautiful homes ranging from basic ranches to elaborate and grand complexes. Maybe the idea of designing your home-build or renovation is overwhelming to you. NDC can make the planning process fun, comfortable and turn what seems like a burden into a blessing.
Garages
NDC Communications can build your traditional, gambrel, high ceiling auto, custom and commercial garage very quickly and with the same fine finish we apply to all of our homes, tower sites and larger facilities. If you have need for more space or you simply want to add the convenience of an additional out-building let NDC build a garage that will be as attractive as it is useful. Whether your project is a garden shed, a single car garage or a 20,000 square foot, multi-bay commercial garage we have the experience to deliver exactly what you need and exceed your expectations for both the process and the final facility.
Concrete Work
Whether your concrete job is flat work, knee wall or full foundation NDC Communications can simplify the preparation and installation of your project. Your project may be as simple as pouring a patio, sidewalk, or a garage floor to something more complex like identifying causes and repairing voids and instabilities in a pool patio. Maybe you have drainage issues or have need of concrete repair, caulking or sealing. Whatever your concrete need is, we are equipped to provide a finely finished solution. From rebar tying to the final pour and the finish grade NDC will deliver your project to spec with a terrific concern for efficiencies, deadlines, and aesthetics. Your affordable, punctual and completed concrete project is one call away.
Roads and Bridges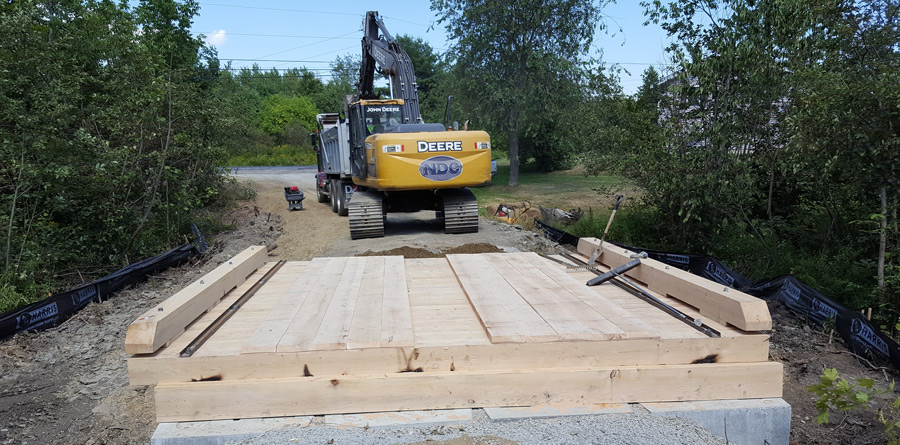 At NDC Communications we have built dozens upon dozens of roadways in a variety of settings. We have built many standard raw-land roads, clearing forests and accessing sites. We have built roads over and through ravines, up the sides of mountains and across waterways. Imagine some of the most challenging places to access and we have more than likely built a road in similar conditions. Because of such wide experiences NDC has learned to pay attention to appropriate details. When a company builds as many roadways as we have issues like the proper foundation base, compaction rates, fabric coverage, top coat gravel and well designed ditching for run-off becomes completely intuitive. Obviously when installing as many roads as NDC has it is imperative to understand the engineering and construction of bridges in various applications. Whether an access bridge is for woods roads, tower sites, or home use, NDC can design and build your bridge to meet your exact criteria and last for years to come.